Angels
by Joie Pirkey (6/22/2006)
When I was very young, as far back as I can remember, I would see what looked like bubbles of bright white light. I can remember different experiences when these things would seem to pop into the room and then float down and rest on people's heads. I asked my mom to explain what they were, but because she couldn't see them, she dismissed my questions. Most of the time I ignored them. If a large number, say four or more, came in at once, I would watch to see what they would do. I recall people asking me what I was looking at, but I always changed the subject because if and when I tried to explain them, I almost always was dismissed. I would see them inside and outside, and in any type of lighting. When I was somewhere around thirteen, I began to see them with my eyes closed, as if they were behind my eye lids. These Orbs of light were almost always bright white, but I do recall very few times seeing blue ones. When these Orbs appeared, I never had any emotional response. They simply seemed normal. They were for me, because I had always seen them.

As time passed, and I began to experience other supernatural things, I noticed that these 'light Orbs' would increase when the other 'stuff' would happen. By other stuff I mean: getting words of knowledge about people, knowing things about places that I had no way of knowing, seeing things others couldn't see or hear. My sister and some of my friends tried to help me figure out what was happening. We did some research and took note of supernatural things that were on T.V. We came up with a number of explanations for the different 'abilities' that I seemed to have, but none of the explanations seemed right, or seemed to explain all of it.

I gave my life to Jesus Christ in the fall of 1981, when
I was a senior in high school. One reason that I was so committed, so early in life, was because I had been so aware of supernatural things. I knew without doubt that there was a dark side. I knew also that some of the things that were happening to me were from God. My mom was a Charismatic Catholic, and I went often to the prayer meetings with her. I have always been very intrigued by the things of God.

I began to search the Bible for some understanding, and found that experiences like mine were actually common in the scriptures. I wondered often about the disconnect that I saw in the church today, but found deep solace in the fact that most of the people mentioned in the New Testament had similar things happen to them. When I first got saved, I was good friends with Bob Lenz. He and I would go with Father Mike Carol from the Green Bay Diocese to speak about God and the saving power of Jesus Christ at a number of confirmation classes and CCD classes. I recall one such time at Saint John School. I was speaking in the old gym and there were at least 300 people there. I don't remember, but I think it was the confirmation class plus their parents and sponsors. I remember being scared half to death when I saw so many people. In the back of the gym, just as I began sharing, about 10 to 15 of those light Orbs began to drop into the room from the ceiling. Their combined light made the back of the room glow. For some reason that event sticks out as one when a peace came over me, unexpectedly after I noticed them.

As I matured in the things of God and in my understanding and knowledge of the Word of God, the Holy Spirit Himself began to teach me which gift was what and how to appropriately use them. It was during the vision, when I was healed of the heart problems, that the Holy Spirit allowed me to see thousands of the light Orbs come forward and turn into a fully revealed angel. These Orbs looked as they always did. They varied in size and intensity. As they got close to me, they would just sort of emerge into a full figure of a man with extremely large wings. These Angels were dressed in bright white robes, and their wing span was as wide as they were tall. The wings, when down, stood up off their shoulders about a foot. They were magnificent! I was trying to explain them to Douglas, who was sitting beside me during this vision, but all I could say was, "They are so beautiful!" I could barely speak.
Three distinct times since that healing vision I had asked, during a vision, what these light orbs were. After that healing vision, I was seeing the 'light orbs' almost every day. All three times the Holy Spirit answered, "Angels."

It was about that time that I was reconnected with an old friend. He and I had attended "Christ the Rock," when it first began, and both of us lived with Jan and Dave Lenz, the pastor's parents. He was hearing from the Lord that an unprecedented outpouring of the Holy Spirit was coming to the Fox Valley . When he tried to convey that message to people in Little Chute, they responded by telling him the story of when I had the vision and was healed, so he called me. It was during one of our phone conversations that he told me about a friend of his. He told me that this friend also sees these angels as light orbs, and that when he does, he can take a picture of them and they actually show up on the photo. I thought my friend had lost his mind. He told me to check the pictures on some web site. When I did, I was amazed and very skeptical--amazed because the 'things' that I was seeing on the photos were exactly what I see bobbing around in the air, and doubtful because, well, because it was hard to believe.

I was traveling to Eucha, OK to speak at a three day conference the next day. Michelle Little and I had a plan. When I would see the angels come into the church, I would mention it and point. Michelle would snap the shot. We took nearly 25 pictures in 24 hours, and there were angels on every one. That night was the third angel orb vision. When the vision began, I asked what the orbs were. For the third time the Holy Spirit answered, "Angels," but then He added, "When will you stop being ashamed of the signs and wonders?" I couldn't honestly say. I knew what people would think, and that still mattered to me more than it should. I asked the Holy Spirit if He would prove to me that these things were angels, by not letting anyone on the internet have a viable explanation.
The following day we searched all morning. We found some very interesting hypotheses, but none that made any more sense than their being angels. When Michelle's mom came into the room that morning, we began to share with her the whole story. Just then angels came into the room. I pointed them out and Michelle got another few pictures, with the 'orbs' on them, right where I was pointing.

Later that spring, I had the vision where Tim was to film, while Michelle took the photo of the orb that I saw. It took a little over a year to put it on the web, because I am very careful about all of these supernatural occurrences. I do a lot of research and Bible study, and get advice from men and women of God, that I respect and that God has placed in my life, as discerners and as spiritual coverings.

I am not trying to develop a theology of angels here. I am simply telling my story and showing the evidence that exists. I do believe that these experiences align with scripture, and an orthodox theology of angels. Seeing the angels is a very small and insignificant part of my ministry and spiritual life. I believe that the photos are a sign and wonder. I believe that the foundation and substance of my ministry and spiritual life is Jesus. He has asked me to share the angel stories, and that alone is my motive for doing so.
Click on image above to enlarge.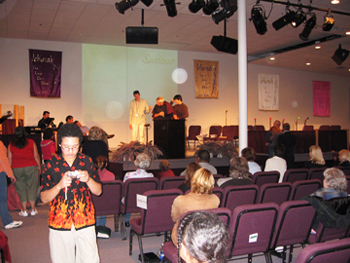 Click on image above to enlarge.
Click on image above to enlarge.